1-wire slave for AVR microcontrollers
The software was created by
smurfix (Matthias Urlichs)
, the source can be found on
his GitHub project page
.
Making it work on an Arduino (Atmega168 version)
Get the code from GitHub and put
pulsedtr.py
in the same directory.
git clone https://github.com/smurfix/owslave.git
cd owslave
wget https://github.com/stef/arduino-cli/raw/master/pulsedtr.py
In the Makefile, change the line that starts with
PROG=
to
PROG=stk500v1 -P /dev/ttyUSB0 -b 19200 -F
and replace
/dev/ttyUSB0
with the appropriate device node if needed. After the line that starts with
burn:
add the following line indented with a tabulator:
python pulsedtr.py /dev/ttyUSB0
(again, replace the device node if needed). Now build and burn the
ds2408
code.
make ds2408
make ds2408_burn
According to
the Atmega168 section of onewire.c
, the pin used for the communication is pin 2 of port D (
MCU pin 4
), which is
mapped to the digital pins on the Arduino board
. This means, that the 1-wire bus should be connected to digital pin 2 (right after the serial port occupying 0 and 1). Now, by connecting pin 2 of two Arduino's digital ports, and uploading the following code to the other, it should work (you'll need the contributed
OneWire library
).
Arduino PoC source code using OneWire
#include <OneWire.h>

OneWire ow(2);

void setup() {
 Serial.begin(9600); 
}

void loop() {
 byte addr[8];
 ow.reset();
 if (!ow.search(addr)) {
  ow.reset_search();
  delay(2);
  return;
 }
 Serial.print("Found: ");
 for(byte i = 0; i < 8; i++) {
  Serial.print(addr[i], HEX);
  Serial.print(":");
 }
 Serial.println("");
 delay(1000);
}
Serial console output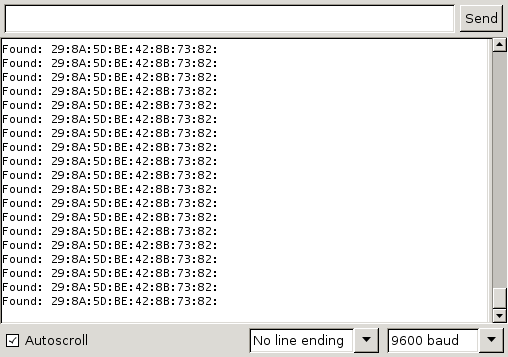 Waveform captured with scope